Description
95% Of Amateurs Struggle With Their Long Games. Peek Over Bobby's Shoulder As He Works With Seven Students On The Full Swing's Most Common Problems.
Our Lessons DVD will fix your problem fast.
This is the greatest information that I have connected with about a golf swing. I have order other DVD & tapes, taken lessons, but your information is so easy to understand and WORKS so well. I have lowered my score by 10 strokes after watching your DVD three times and range practice twice. I was always shooting in the low 100 and the fist time out I shot 90 and missed a couple of putts that lipped out, but the greatest thing was that I beat my regular buddies for the first time. The second time out, was in a best ball scramble and we used 90% of my shots and had a closes to the pin and longest drive. I can't thank you enough for this information. If I can make it to Arizona for a couple of days I intend to sign up for your school. Thanks,Thanks,Thanks. T.A. Green
"I Lowered My Score After Watching The DVD"
Two months ago I was shooting 105 – 100. Now I am consistantly scoring in the very low ninties. Last week I had an 89! My driving improvement is amazing – in my last round I hit 14/15 fairways – Dead straight for the first time in 45 years of golf. A very happy golfer. (The money I spent on DVD's was worth every cent!!!) Peter W. Willis
"Dead straight for the first time in 45 years of golf."
I have to say that i was dubious that i was going to find a solution to a really annoying slice i had developed, especially from the internet! I am quite stubborn and think that if it is something that i have picked up i should be able to rectify without help. I found your site and recieved a few tips from the first chapter of your book. I am not much of a reader when it comes to self help books, i generally prefer to go straight to the problem and physically fix it rather than mentally, boy am i glad i thought otherwise – it made sense and seeing the swing in action in a recent email just made it all come together. I am hitting consistantly again, and am able to know what i did to cause the slice or hook. I am enjoying playing an EFFORTLESS game and getting the yardage i want rather than what i have to make do with. Brilliant, brilliant, brilliant. Just sorry i didn't buy your book, shows that i wasn't to far off solving the problem! Once again thanks. Anthony Kerrey
"I am enjoying playing an EFFORTLESS game"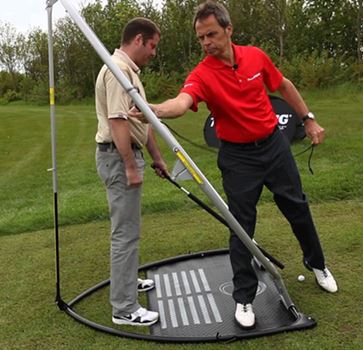 "What this DVD will do for your game."
You'll shed strokes off your scores like a long-haired cat on a blue serge suit.
Your handicap will drop like it's got a rock tied to it.
You'll gain complete control of the ball. So it finally goes where you want it to go.
You'll be making the kind of longer, straighter drives that'll leave your golfing buddies drooling with envy.
You'll gain super confidence in your game.
Change the most successful instruction format in golf history.
Something completely different.
But not just to be different. I've been trying to come up with a way for you to see for yourself how the corrections we demonstrate in our DVDs work in real time. I also figured that if I was going to tell you I could fix your long-game problem with one lesson, it might be a good idea to show you that it was possible. By actually doing it. So I had Bobby go through his notes on all of his "face-to-face" students – the ones he works with directly instead of through a video camera.
You've got to practice.
Become your own instructor
Now, that may sound a little short-sighted on my part, since teaching golf is how I make my living. What I mean by that is that this video will help you draw on what you've learned to diagnose and correct your errors. I certainly don't mean you won't need any of our other DVDs. That would be shortsighted. But you will be better able to learn how to "take the instructions with you". So you immediately know what to do to fix any problem with your game.
It goes without saying.
But I'm going to say it anyway. Just spending an hour watching this video may be entertaining, but it won't do much for your game. You'll need to focus on the area where you need help…pay close attention to the guidance that I give the student…hen, if it looks like what the student was doing wrong is what you've been doing wrong, apply that same guidance to your problem