Description
"Adding 20 Yards (or more) To Your Shots Has Never Been Easier… Regardless of Age, Gender or Fitness Level"
Just back from my best round ever, I shot 86 on a course I had never played before. I was shooting north of 100-110. Before I saw the documents you supplied I was happy to score 95-100. Within a few months of using the advice from your DVD, the result is speaking for itself. I have taken about 5-10 shots of my scores in a short space of time.
"Just back from my best round ever"
" I Went from a 10 handicap to a 7. A 30% decrease in 2 weeks."
"Went From a 10 handicap To 7 in 2 weeks"
Just a note to let you know I received your cd's and feel you did an excellent job of discussing about all the necessary areas for improving your game. I am 79 years young and have dropped from the upper 90′s to the middle 80"s I started playing some 12 years ago and now feel MORE CONFIDENT IN MY GAME AND THE JOY OF PLAYING GOLF IS GREAT. THANK YOU.
"Dropped from the upper 90′s to the middle 80′s."
This is amazing, I have been a slicer all my life and have tried everything, even professional lessons and never received any assistance with the slice. After reading your email (lesson #1) I took it to the driving range and I was amazed, hit 40 balls with various clubs and didn't slice any shot, several went straight and the majority had a slight sand. I actually hit several 300 plus drives (haven't been able to do that for many years). I have all your DVD programs and look forward to watching your upcoming sand DVD. I must say that your method of teaching is the best I am seen, really appreciate your guidance. Thanks again, Charles A Stewart Adrian, MI
"I was amazed, hit 40 balls with various clubs and didn't slice any shot."
"I wanted to write as a happy customer. Since I have watched three of your videos, I have lowered my scores about eight to twelve strokes. I am around 90 – 94. I now have all four of your DVD's with my latest purchase of the short game. I want to thank you for giving excellent instruction lessons."
"Lowered my score eight to twelve strokes."
"Well, as I said in my letter, I got this system at the end of the golf year. I ended my year with a local course handicap of 16. I spent the winter and spring studying the DVDs, going to a driving range with heated stalls and practicing every chance I got. I didn't want to get back to you without having more data. Here is the update: Right from the start of this year, I could tell things were going to be different. Though I have had my "blow-up" rounds, they have been in the low to mid 90′s. However, my scores were much more consistently in the low to mid 80′s. It didn't take long before I broke 80 for the first time in many years. Since then, I have had several in the high 70′s. I want to thank you for this series of DVDs and look forward to future ones. After (not if) I hit my 75 goal, I am not sure what my next will be. I will be 47 of the 19th of June (less than two days at this writing) – is the Senior Tour too much to dream for? Just Kidding … or am I?!?!"
"I broke 80 for the first time in many years."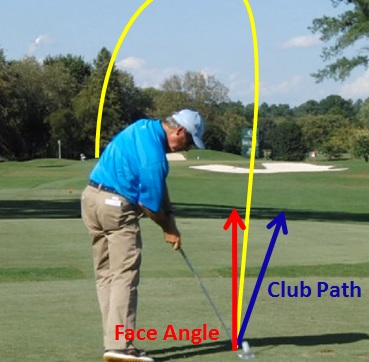 "Greater distance than you ever than you ever thought possible."
It's like Red Bull™ for your long game.
You ever had a sip of an energy drink? You know within seconds you get a good kick in the pants. And it stays with you for quite some time. In fact, unlike an energy drink, this new technique will stay with you as long as you'll want that added distance. The things I teach you to do in the DVD will add distance to ANY shot you hit with your long irons and woods.
Here's what you'll learn in my Maximum Distance DVD.
While strength and conditioning may help you hit the ball farther, this DVD isn't about a bunch of silly exercises you have to sneak off and practice. This is stuff you can actually use on the driving range or on the course. Speaking of strength, you've probably noticed that most Tour Pros aren't muscle-bound giants. They don't rely on brute strength; they've learned how to combine swing speed and timing to hit tremendous distances. So can you. In this DVD, I'll teach you how to supercharge your swing speed and connect your clubhead with precisely the right spot on the ball. The result: An amazing difference in distance. I'll show you how to get increased swing speed by creating a longer distance for the club to travel. I'll start by helping you find precisely the right grip for you. Then I'll help you develop round backswings and downswings…learn how to maintain a proper swing path…how to put your weight to work for you to achieve proper balance…and the right release for solid contact. In short, everything you need to know to start hitting the ball farther. You'll learn…
Why a "white knuckles" grip is death for distance. I'll help you get a grip that works for you – and fine tune it till it feels right todeliver distance.
How to develop round backswings and downswings. Having us stand in garbage cansand take swings was my golf pro mother's way of teaching us that golf is a "round game". 
The way to keep your club on a steady swing path. And what to let your club do for you. Not to mention how to put torque on your side.
How to control your weight when you swing. Nope, it's got nothing to do with diet but everything to do with balance. And correct balance is absolutely essential to gaining distance.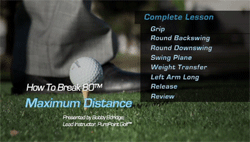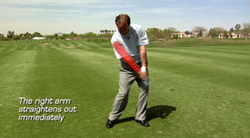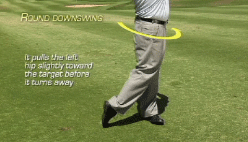 Why the knees are keys to achieving distance. I'll show exactly how to use them to your advantage.
The secret of solid contact with a closed clubface. Most amateurs get this totally backwards.
Why what you've been taught about your left arm is all wrong. And how to get your left arm right.
How to achieve proper "release". That's where it all comes together and adds up to extra distance.