Description
Is An "Iron Deficiency" Keeping You From Being the Golfer You Want To Be?
Your iron play could use some work!
Just a note to let you know I received your cd's and feel you did an excellent job of discussing about all the necessary areas for improving your game.I am 79 years young and have dropped from the upper 90′s to the middle 80"s I started playing some 12 years ago and now feel MORE CONFIDENT IN MY GAME AND THE JOY OF PLAYING GOLF IS GREAT.
"Dropped from the upper 90′s to the middle 80′s."
This is amazing, I have been a slicer all my life and have tried everything, even professional lessons and never received any assistance with the slice. After reading your email (lesson #1) I took it to the driving range and I was amazed, hit 40 balls with various clubs and didn't slice any shot, several went straight and the majority had a slight sand. I actually hit several 300 plus drives (haven't been able to do that for many years). I have all your DVD programs and look forward to watching your upcoming sand DVD. I must say that your method of teaching is the best I am seen, really appreciate your guidance.Thanks again,Charles A Stewart Adrian, MI
"I was amazed, hit 40 balls with various clubs and didn't slice any shot."
"I wanted to write as a happy customer. Since I have watched three of your videos, I have lowered my scores about eight to twelve strokes. I am around 90 – 94. I now have all four of your DVD's with my latest purchase of the short game.I want to thank you for giving excellent instruction lessons."Gary Carter
"Lowered my score eight to twelve strokes."
"Well, as I said in my letter, I got this system at the end of the golf year. I ended my year with a local course handicap of 16. I spent the winter and spring studying the DVDs, going to a driving range with heated stalls and practicing every chance I got. I didn't want to get back to you without having more data. Here is the update:Right from the start of this year, I could tell things were going to be different. Though I have had my "blow-up" rounds, they have been in the low to mid 90′s. However, my scores were much more consistently in the low to mid 80′s. It didn't take long before I broke 80 for the first time in many years. Since then, I have had several in the high 70′s.I want to thank you for this series of DVDs and look forward to future ones. After (not if) I hit my 75 goal, I am not sure what my next will be. I will be 47 of the 19th of June (less than two days at this writing) – is the Senior Tour too much to dream for? Just Kidding … or am I?!?!"
"I broke 80 for the first time in many years"
"I have been out practicing your swing, I can't believe the improvement in just a couple of sessions.I am hitting the ball consistently with a square club face and grouping the balls like never before, after pacing the distance I find I have hit it at least 10 yards further with a great ball flight, can't wait to take this swing out onto the course. I have already knocked shots off following the short game dvd, I am getting closer to the pin than I have ever done and consistently.if its like this in just a short time.I took my new swing on the course today and broke 90 for the first time. At last the ball is going where I want it to."
"Can't believe the improvement"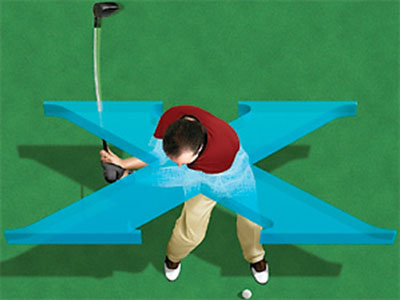 "This isn't work. It's golf."
You won't have to learn a new swing for each club.
Nope. I'll teach you a swing that you can use for all your irons. It's based on the full swing that I've been teaching for the past 30-odd years with a little common sense modification for iron play. Now, I have to tell you this: You won't master this swing overnight. Like anything else that's worth doing, it'll take time. Don't rush it; give yourself 60 days to master it. By then, it'll be second nature. Does that mean you've got to wait three months to see any improvement?No way. Remember that I said you'll see immediate improvement in your game?
Why did I make this DVD?

Some folks wonder why we would spend a fortune to shoot a video with such high production values on iron play…when all the average golfer wants is to hit long drives. Those folks just don't get it. They don't understand we're not making videos for the average golfer. We make them for golfers who are sick of being average. In other words, we make serious golf instruction videos for people who are serious about golf. I believe you're one of those people.
What will it cost to make perfect impact all the time?
 One free month in my brand new Fast Track Program.
An unconditional 60-day money back guarantee.
A $50 discount off the retail price.
Hundreds of dollars worth of free bonuses.