Description
Secret Putting System Ends Three-Putts Forever And Shaves 8-10 Strokes Off Your Round…With 10 Minutes Practice.
Learn advanced techniques such as "touch", "feel", distance control and green-reading.
Last Sunday, on father's day, for the first time in my life, I broke the « 90 » barrier (89 to be exact – I'm normally playing around 97-98), just applying your short game concept and being sure that I'm doing my pre-shot routine properly on each shot! I still have to practice to be more consistent at this aspect of the game, but so far, the results are great! Besides, I'm anxious to apply the « full swing » and the « consistency off the tee ». I just need time to go to the practice range and also to listen to your DVDs again and again to put all this stuff into my brain! In any case, I'm a true believer of your methods and I hope to improve some more in the future! So, thanks again, I look more like a true golfer now… because of you guys!
I'm a true believer of your methods
My 12 year old son recently got a starter set of golf clubs, and since he was picking up the game, I decided to get a set of clubs. I played my first round of 18 holes on Monday and knew I needed some instruction. I purchased your DVD this morning, watched it and practiced the five steps at the driving range today at lunch time. WOW! What a difference! I'm hitting straight shots consistently. I can't wait to continue to practice at the range. I look forward to playing my next round of golf with confidence. Thanks for putting together an INFORMATIVE DVD for the working parent!
I'm hitting straight shots consistently
I felt I must write to you to tell of my golfing successes since buying your book. This week, I have won both the Monday and Wednesday competitions at my club and have now won 5 times since getting your DVD's. This is the biggest run of success I have ever had in 50 years of golf and my handicap has reduced from 18 to 14 in the last month. I now feel that my ultimate goal of getting down to my long term handicap of 12 is very achievable. You might be interested to hear that the concepts which have been the catalysts for my recent success are rotating the right shoulder directly around the spine and staying connected on the downswing. As I have mentioned to you before, I still cannot use the shorter backswing you promote in your book but you advised me not to worry about it so I don't!! I should appreciate any further input you may be able to provide on this aspect of your system. My problem seems to be that when the left arm is parallel to the ground, I feel as if my shoulders have not turned enough and I then tend to spin out from the top of the backswing. Many thanks for helping me to re-discover my love of golf. It is a wonderful game at any time but the enjoyment is enhanced so much when you play well.
Chris Gotham
Sydney, Australia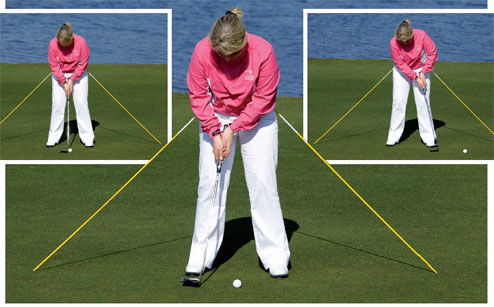 "No matter how far you're able to hit the ball, it doesn't count until it rolls into that hole."
You can't score well if you don't putt well. It's your score that says what kind of golfer you are. If you three-putt every other hole, your score will never improve. And what's that saying about you?
Putting is more than half of the game. You use your putter twice as much as any other club. And with every hole of every round your last stroke is with…wait for it…a putter.
So if putting is such a big deal, why does the average golfer neglect it? Maybe practicing putts doesn't seem macho enough. Or maybe there's no instant gratification in putting the way it is in knocking hell out of the ball (even if it ends up in the trees).
What you'll learn with this DVD
How to pick the right putter. The one you have may be the cause of all your putting problems.
How a piece of paper can help you determine if your putter is soled correctly. It's not the one that came with the club.
How to tell if you're standing parallel to the target. You'll want to be. I'll show you a fool-proof way to make sure.
How to properly grip the club. I make a strong case for a neutral grip.
How to avoid the #1 mistake most amateurs make. It's the reason for most double bogies.
Why riding in a golf cart can hurt your game. After you hear this, you'll never get in one of those things again.
What the setting sun and the grain of grass will tell you. You'll be amazed at the information you can pick up if you use your eyes.
Why you might want to invest in a magic marker. That is, if you want a perfectly legal but unfair advantage.
The importance of developing a routine. And sticking with it every time you putt.