Wish you could drop 7 shots or more quickly and easily without chewing up your evening or breaking the bank?
Do you want to finally learn the very same technique and strategies that THOUSANDS of others who are breaking 80 on a regular basis use to leave their playing partners saying "I wish I could do that!"
My comprehensive guide is packed full of pictures, drills and diagrams so that you can quickly and easily implement fixes into your game…and start seeing results right away!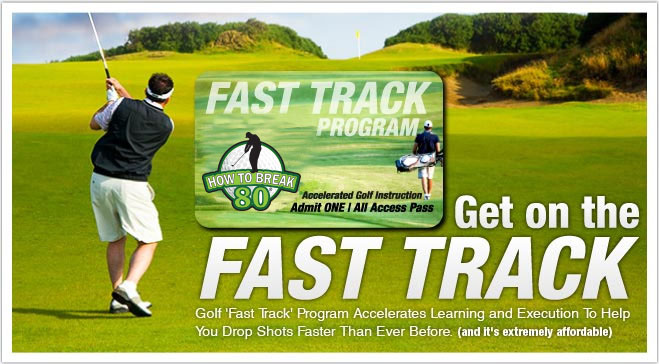 How to Break 80 ® Presents:
A brand new way to experience golf lessons online.
Golf 'Fast Track' Program Accelerates Learning and Execution To Help You Drop Shots Faster Than Ever Before. For those dedicated, avid golfers who are committed to improving this season, I've come up with a brand new program of golf lessons to accelerate their learning and put them on the "fast track" to significantly lower scores.
ABOUT TODAY
You Can Break 80 with Our Golf Instruction Programs.
Over the last decade I have worked to create the best golf instructional programs, from working with the top teaching professionals to reviewing thousands of questions from golfers just like you. My goal was to develop an intuitive training system that helped golfers attain the real results they were looking for.
To this point, Break 80 Today has helped over 100,000 golfers improve their golf game with solid, instructor backed, golf training videos. Now we are making it even easier to improve your game with the ability to access your training program through the new online golf training portal we call Fast Track.
"How To Break 80 is the backbone of my success"
My name is Terry Cain, and I come from Victoria, British Columbia Canada. I play out of Olympic View Golf Club. I have a
9 handicap
, and have been playing at or near that cap for 3 years. It has been a struggle to break 80, and I would give my eye and teeth to do it consistently. When I noticed your e-book on the net, I immediately was interested. I have started to
drive the ball with much more consistency
, with your very easy instructions on my grip, grip pressure, take-away, and especially dropping my hands down into the zone, and swinging through has changed my game plan. My hip turn has improved as well, although a little inconsistent. I still get a push sometimes, and a quick hook too. However, these will diminish with practice. The golf season is here, and I am eager. My first rounds have already been successful,
shooting a 79
times two. Why? Off the tee, I am now in much better scoring positions, and the comments from my fellow golfers are
"what have you been doing with your swing"?
I am reluctant to tell them, but, I couldn't help but say that
How to break 80 is the backbone of my current success.
"I can't believe the immediate results"
I love your book and its been really great in improving my game.
My handicap continues to get lower and
my golf buddies are accusing me of sneaking in extra rounds with a pro
. The book has been great in helping me work the ball for draws and fades too.
I can't believe the immediate results.
Your articles are also very helpful. I especially found the article focusing on the catalyst for the golf swing i.e. the take away, extremely helpful. After employing the Harvey Penick's "Magic Move" my swing has been more consistent, yielded more distance, and my shoulders are powering for the follow through.
"Handicap dropped from 10.5 to 8.1 in only one month"
Thank so much for the book. It has been by far the best money I've ever spent on golf. My
handicap has dropped from a 10.5 to a 8.1 in only a month
from all the great tips. I've recommended your e-book to all my golfing friends.
"Since I read your book I've been much improved"
I started playing golf in May (I'm 45 years young), and my best score before I received How to Break 80 was 109 twice. Since I have received How to Break 80, I have been much improved.
I shot a 102 on 7/29, a 100 on 8/7, and a 90 yesterday 8/22. WOW!
I still have a ways to go, but I am improving and hope to break 80 by year end.....
"8 Handicap Shoots 75"
I live in New Jersey, Rockaway. I'm an avid golfer "golf nut" been playing for about 35 years. I have a lot of books, tapes, DVD on golf I like to think I'm a student of the game. I've been
stuck at handicap of 8
for the past couple of years and it is probably because I done get to practice as much. The best round I've ever shot was 68 on a par 71 course when I lived in North Carolina and played just about everyday. So now I play once a week if that, so when I saw your book I thought I'll give it a try. I've been shooting from 79 to 85. So after read just a portion of your book and practicing some of the drill, (the lower hip turn to the right, the arms and hand actions) I decided to see if it would work. Birdie the first hole, had two other birdies and it should have been more, but you know how they slide by sometimes. The round consisted of
3 birdies, 10 pars,
4 bogeys and one double bogey. Now I will go back to the book reread the first sections, work with the short game and putting sections. The difference in this
75
and the others is that
I hit the ball better
, so I'm looking forward to this weekend and playing better.
"My Scores Have Lowered 5-6 Shots Per Round"
I'm a 44 year old lifetime golfer from Pittsburgh, Pennsylvania with a slight physical disability. I was born with Cerebral Palsy, which makes balance a problem in my swing, so I must always learn to adjust to make things work for me. I'd like to share with you my success story as a result of reading the How to Break 80 E-book. I read sections of the book daily and have used it to improve my swing and technique. I also utilize one of the added features that comes with the book to incorporate some specific golf exercises into my daily work out. The practice and the work-outs have helped me add about 15 yards of distance to my drives and my scores have lowered on average, by 5-6 shots per round. I am now shooting in the low 90's and looking forward to continued improvement.