Description
"Finally-The Never-Revealed-Before' Putting System That Will Say Goodbye Forever To 3-Putts, Have You Draining 5 Footers Like 'Kick-Ins'…And Save You 5-7 Shots From Your Next Round…GUARANTEED!"
"…now I have the problem, do I tell my golf pals about it, or do I keep quiet and keep taking the money(ha! ha!) Thank you so much!
"I Broke 90 for the first time today!"
"Got the DVD and here's an update… …Right from the start of this year, I could tell things were going to be different. Though I have had my "blow-up" rounds, they have been in the low to mid 90′s. However, my scores were much more consistantly in the low to mid 80′s. It didn't take long before I broke 80 for the first time in many years. Since then, I have had several in the high 70′s. I had also set my goal for the entire year of going from my season-ending 16 to a single-digit handicap on my home course. Right now, I am VERY close. I have gone from having three to four 3-putts per round to going three to four rounds between 3-putts. I want to thank you for this DVD and look forward to future ones. After (not if) I hit my 75 goal, I am not sure what my next will be. I will be 47 of the 19th of June (less than two days at this writing) – is the Senior Tour too much to dream for? Just Kidding … or am I?!?!
"I've gone from three to four 3-putts per round to not having any for three or four rounds!"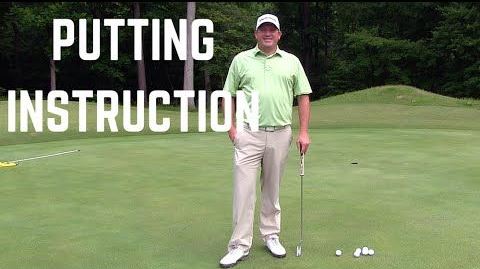 Finally-The Never-Revealed-Before' Putting System That Will Say Goodbye Forever To 3-Putts, Have You Draining 5 Footers Like 'Kick-Ins'…And Save You 5-7 Shots From Your Next Round…GUARANTEED!

If you're serious about breaking 80 or simply going as low as possible, you MUST, and I mean MUST, know how to get the darn ball in the hole! If you put a gun to my head and said "I need to lose 5 strokes from my game by the weekend", I'd say "work on your putting." In case you missed the importance of putting, I went over the program and techniques in great detail in my book and also most recently some new concepts in my Special Report released last summer "How To Drop Seven Shots In Seven Days". I hear from hundreds of you folks every week and here's what I believe is going through your golfing minds when you get on the putting surface…
What We'll Reveal Inside the How To Break 80® Putting Video
The #1 mistake most handicap golfers make when putting. (This single flaw is the reason for the majority of double bogies out there today!)
The deceptive appearance in your grip that causes all golfers to believe the wrong thing about making a good putt!
How to properly grip the club for the best putting you've ever had!
The proper stance: You could be copying the wrong one when you're watching tournaments on TV?
How to physically and permanently PREVENT your wrists from "breaking down" when you putt.
Which hand should be "in charge" of the putt? I settle this question once and for all.
The One Simple Key to accuracy – even when nothing else is working right!
How to get your body into the best physical position for seeing the line of the putt. (This isessential for effortless accuracy – the kind the PGA pro's have.)
How to make all your putts as smooth a silk – no matter what kind of slopes or angles you have to compensate for!
The key to overcoming the dreaded "distance" demon!
Distance control so precise, you'll be rolling your ball exact distances to anywhere on the green.
How to take the way you currently grip your putter, and guarantee it keeps the putter-face dead-square to your target through the entire stroke.
Know without a doubt, how long your stroke needs to be for each, and every putt to roll it right to the bottom of the cup.
The one fundamental rule of putting that under any circumstances must never be broken.(This is something you will never see the PGA pros do.)